Environmental Impact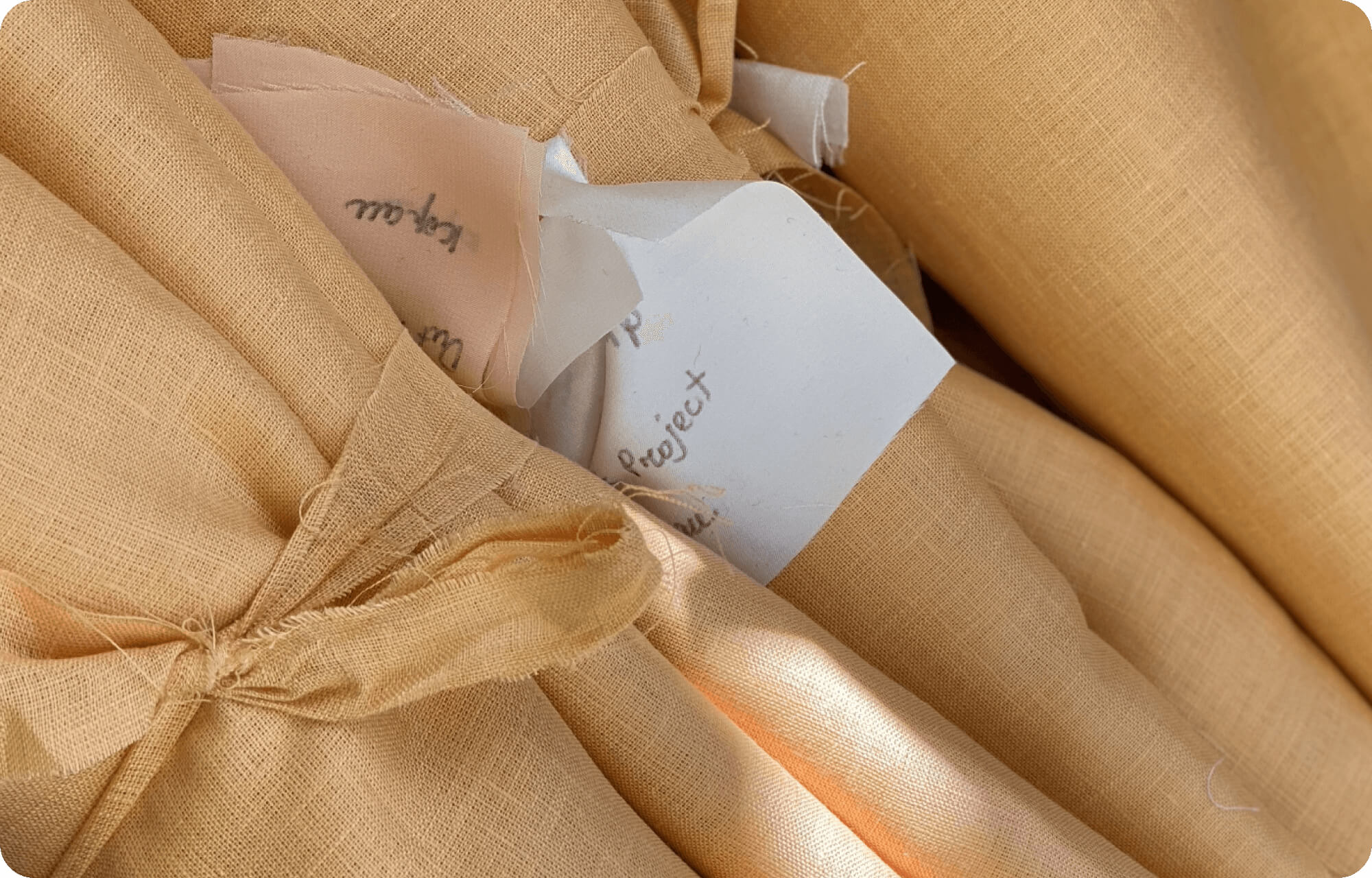 Materials
Approx. 90% of our garments are made of 100% natural fibers (we use linen, cotton, silk, viscose, EcoVero Rayon). We closely study materials before sourcing and aim to select responsible textiles, which are proved by international standards and certificates. 

Linen
We use lots of linen in our collections. Actually, linen is our favourite material. It is a natural and ecological fabric produced from plants and fully biodegradable. Linen is durable and does not stretch over time. We are very happy that we are contributing to the change of perception of linen by giving a new vibe to this traditional material. We think we were able to give a new voice to this material, making this fabric not required, but the preferred choice.

Recycled materials
For the first time, in 2020 Sleeper has used recycled materials in its collections. The loungewear set from FW 20/21 collection is made from recycled polyester, which is certified with Global Recycled Standard. The use of this material significantly reduces gas emissions, prevents the accumulation of plastic in landfills, and lessens its pollution into oceans.

Certifications
Our linen, EcoVero Rayon viscose, recycled polyester are certified with Oeko Tex 100, meaning these textiles do not contain harmful substances and are completely safe to human health. Our silk has been tested for harmful substances by SGS. We encourage all our suppliers to report with certificates about the origin of the materials, as well as its environmental and social impacts. To find out more, please visit our Partnership and Suppliers' Sustainability Policy

Circularity
To reduce clothing and textile waste, carbon footprint and other negative environmental impacts, we at Sleeper are embracing the circular economy — a shift from the "take-make-waste" linear system to a restorative one that designs out waste, keeps materials and products in use for as long as possible, and regenerates the environment. Although recycling is considered to be an important component of sustainability, we take circularity much further by bringing the concept of reducing waste to the beginning of the design process. 

Our eight strategies for becoming circular by 2030 are:
♻️
Innovation
Inspired by zero waste fashion design with careful pattern and sampling in merchandising the fabrics and accessories, Sleeper plans thorough production and zero-waste fabrication and assembly of the garments;

🚚
Efficient Distribution
We intend to decrease fossil fuel consumption by optimizing delivery and dispatch routes;

🪃
Optimized End-of-Life
We inform customers and suppliers as to potential circularity options for the waste, products' life-cycle extension and carbon footprint reductions.

🦙
Animal Welfare
We adore animals, that's why we have one major rule – before taking a decision on cooperation with a partner / supplier on accessories, we require a certificate that will prove that the production of these materials does not harm international animal welfare standards. We will never use products from animals slaughtered exclusively for their skin, shell, horn, bone, feather or down. If there is no documental proof, we refuse such suppliers.

🧶
Low-Impact Materials
We check the sustainability and environmental certificates from our suppliers and choose eco-efficient and sustainable materials and carefully inspect the way the materials for garment's manufacturing are packed and delivered;

🥼
Low-Impact Use
Sleeper is preaching the Timeless Design by rethinking classics which never go out of style and stand for slow fashion and long-lasting designs. It's our mission to create pieces for the long haul, which could still remain chic over the years;

🪡
Optimized Manufacturing
We produce high-quality construction (to measure defects of the product and rejects by the customers (due to any flaw in the product) to extend the life-cycle of the product;

⏳
Optimized Lifetime
In order to close the loop and follow responsible production and consumption principles Sleeper encourages its customers to follow 5R rules:

1. Refuse or rethink - choose one high-quality exclusive Sleeper garment which will serve you longer than fast-fashion products;

2. Reduce - by choosing your favorite Sleeper garment you reduce the environmental and social impact of your purchase. Our strategies and policies make sure that our products meet best sustainability global standards;

3.Reuse - reuse your favorite garment and discard (recycle), donate, trade or sell it when not needed anymore;

4. Recycle - we encourage our customers to recycle used garments and inform on the existing circularity options. Sleeper develops its chain of partners and NGOs on circularity and recycling;

5. Rot - primarily biodegradable materials are used in Sleeper's garments which makes the utilization process safe for the planet and easy to return to the biosphere without any harm for nature.